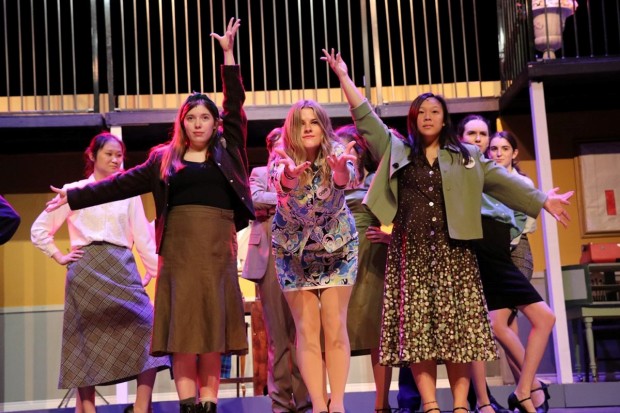 Pictured are (from left) Cathy Zhai, Mikayla Lillibridge, Emily Little, Morgan Fu, Elise Longoria, Brooke Reynolds. (Photo: Scout Belt)
After a successful weekend of back-to-back performances, Memorial High School has just finished its first production of the year, Urinetown the Musical. As a freshman, I am so grateful to have been involved in this high school production.
From the rehearsal schedule to the amazing set, I've been given a completely different experience than any other show has given me. Aside from our amazing cast, crew, and team of directors, the fact that our program is run equally by students and parents, our creative publicity team, student choreographers, music director who drives every day from our rival school to teach us, and of course the gift that keeps on giving (our amazing board moms!) set our program apart from any other in the district.
Pictured are JR Ingersoll and Payton Hill. (Photo: Scout Belt)
With the events organized by our gracious board, I was able to see every step of the "theater production" chain. The incredible crew surprised us with their decorations on opening night; I was very surprised to walk in finding our foyer furnished with toilets and a multitude of toilet paper (of which our concessions were being sold on).
The show itself tells the story of greed, corruption, love, and justice all while relating to the world we live in today. It is a satirical comedy that shows how a young man leads a revolutionary uprising for a poor community to prevail against their rich adversaries and manages to fall in love along the way. For most of MHS's actors, this is their last fall show of high school. I am so glad I've had the privilege to work and become friends with these people.
Pictured are (from top, left to right) Ava Reistroffer, Katie Van Arsdel, Keren Latif, Harrison Hidalgo, Stephanie Shaub, Nara Yoo, Scout Belt, Tulsi Parikh, Muna Khalidi. (Photo: Tiffany Conner)
One senior actress, Mikayla Lillibridge, who played one of our leads says, "I had so much fun in Urinetown! We were such a tight knit cast and I couldn't have asked for better people to work with!". Another one of our leads, sophomore JR Ingersoll, describes his experience as "exciting, nerve-wracking, and fun."
People in this article:
MIKAYLA LILLIBRIDGE, JR INGERSOLL, CATHY ZHAI, EMILY LITTLE, MORGAN FU, ELISE LONGORIA, BROOKE REYNOLDS, AVA REISTROFFER, KATIE VAN ARSDEL, KEREN LATIF, HARRISON HIDALGO, STEPHANIE SHAUB, NARA YOO, SCOUT BELT, TULSI PARIKH, MUNA KHALIDI, PAYTON HILL
Schools in this article: